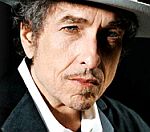 The Chinese government has banned
Bob Dylan
from touring in the country, according to reports.
The veteran singer was due to play two dates – in Shanghai and Beijing – later this month.
But Dylan's local promoter, Brokers Brothers Herald, said the Chinese culture ministry had refused to grant him permission to perform.
Jeffrey Wu, Brokers' chief of operations, claimed Bjork's pro-Tibet protest at a 2008 gig in Shangai had caused the government to clampdown on international performers.
"The chance to play in China was the main attraction for him," Mr Wu told the New York Times of Dylan's scheduled dates.
"When that fell through, everything else was called off."
Following Bjork's outburst, the Chinese government took steps to prevent artists who threaten the country's sovereignty or violate its "religious policy or cultural norms" from performing.
The Icelandic singer shocked officials when she shouted 'Tibet, Tibet' during a show in March 2008.
The Peoples Republic of China has ruled Tibet since 1951 and conversation about Tibet's independence is considered a taboo in China.
(by Jason Gregory)