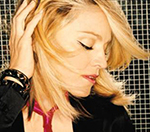 Madonna
eclipsed
The Beatles
as the most played artist of the last decade, new figures show.
The Queen of Pop topped a chart of artists who enjoyed the most airplay and public performances of their material from 2000-2009.
Compiled by royalties body PPL, the countdown also featured Robbie Williams at number three, Queen at four and Take That at number five.
Other artists inside the top-10 included Sugababes, Elvis Presley and Coldplay.
PPL chairman Fran Nevrkla told news agency PA: "It is an accurate and democratic reflection of the most popular artists of the last decade."
The chart was broadcast on BBC Radio 2 on Bank Holiday Monday (April 5).
The top-10 was:
Madonna

The Beatles

Robbie Williams

Queen

Take That

Sugababes

Elton John

Elvis Presley

ABBA

Coldplay
(by Jason Gregory)