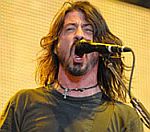 Foo Fighters
frontman Dave Grohl has revealed he never expected the band would last more than two albums.
The singer, who formed the group in 1995 following the dissolution of Nirvana, said the group got lucky with their self-titled debut.
"I never thought we would last more than two albums. The first album was a fluke," Grohl told Time magazine.
"It wasn't meant to be a career, it wasn't meant to be a band. I'd have called it something else if it was meant to be a band."
When asked what he would have called the band, Grohl replied: "Never the Foo Fighters."
He added: "I called it Foo fighters because I didn't want people to know it was me if they heard it. I wanted them to think it was a band.
"So I thought, OK, maybe if I pluralise it, it will sound like the Ramones, a gang – a group of people."
Grohl is currently performing with new side-project Them Crooked Vultures.
But he said fans could expected the Foo Fighters to return "sooner than people imagine".
(by Jason Gregory)