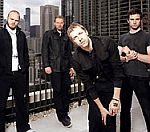 Coldplay
's free album giveaway for fans has been marred this morning by complaints of slow download speeds.
The band are giving fans the chance to download a new live album, entitled 'LeftRightLeftRightLeft', for free for the next 24 hours.
But some fans have complained that the the album is taking upwards of three hours to download.
Others, meanwhile, are unable to access the download page.
On Twitter, one user wrote: "OMG WAIT - Has anyone had any success downloading the free Coldplay album?
"I'm getting a big "can't find server" message.. DAMN!"
Another said: "The page isn't loading and I need my Coldplay download!! DOWNLOOOOOAD!! :'("
Coldplay have told fans to continue trying the download link if it is unresponsive.
As previously reported, CD copies of 'LeftRightLeftRightLeft' will be given away to fans on each nighs of the band's tour, which begins tonight in West Palm Beach, Florida.
(by Jason Gregory)