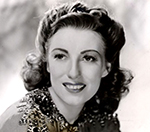 Dame
Vera Lynn
has become the oldest living person to top the
album charts
after her album '
We'll Meet Again
' hit number one on Sunday.
Now aged 92 her Greatest Hits album has proved a monster hit and kept new albums from young pretenders The Cribs and Jamie T at bay as well as all thirteen remastered Beatles albums.
'Kings and Queens', Jamie T's second album reached Number two in the chart whilst The Cribs' 'Ignore The Ignorant', with new member Johnny Marr, hit number eight.
Four of the re-mastered Beatles albums appear in the top 10. 'Sergeant Pepper's Lonely Hearts Club Band' reached the highest position at number five, followed by 'Abbey Road' at six, 'Revolver' in ninth place and 'Rubber Soul' at 10.
(by David Renshaw)