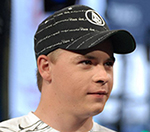 Tokio Hotel
drummer Gustav Schaeffer was hospitalised in the early hours of Sunday morning after being attacked with glass bottles.
The sticksman left a club in the band's native town of Magdeburg, Germany when glass bottles were launched at him resulting in cuts to his head.
Tokio Hotel's manager David Jost confirmed the news in a statement, saying: "Gustav was admitted to the hospital emergency room around 4.30am. The cuts on his head were stitched up immediately."
The alleged culprit of the attack has been named and Schaeffer is hoping to press charges.
(by Scott Colothan)