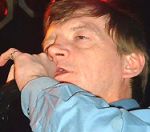 The Fall
's Mark E Smith is set to release a song for England's bid to win this summer's football World Cup.
The track, entitled 'England's Heartbeat', was written alongside ex-Fall member Ed Blaney and Jenny Shuttleworth, and will be released under the name Shuttleworth.
The song tells England players to "take care of the invention of your nation" and "socks up at last or be a Brazilian breakfast".
'England's Heartbeat' will be released digitally on May 4 and on physical formats from June 7.
The World Cup gets underway in South Africa on June 10 and runs until July 11.
(by Jason Gregory)




Comments:

seo
[13 November 2015, 18:25:37]
Hello Web Admin, I noticed that your On-Page SEO is is missing a few factors, for one you do not use all three H tags in your post, also I notice that you are not using bold or italics properly in your SEO optimization. On-Page SEO means more now than ever since the new Google update: Panda. No longer are backlinks and simply pinging or sending out a RSS feed the key to getting Google PageRank or Alexa Rankings, You now NEED On-Page SEO. So what is good On-Page SEO?First your keyword must appear in the title.Then it must appear in the URL.You have to optimize your keyword and make sure that it has a nice keyword density of 3-5% in your article with relevant LSI (Latent Semantic Indexing). Then you should spread all H1,H2,H3 tags in your article.Your Keyword should appear in your first paragraph and in the last sentence of the page. You should have relevant usage of Bold and italics of your keyword.There should be one internal link to a page on your blog and you should have one image with an alt tag that has your keyword....wait there's even more Now what if i told you there was a simple Wordpress plugin that does all the On-Page SEO, and automatically for you? That's right AUTOMATICALLY, just watch this 4minute video for more information at. Seo Plugin
seo

Dr4NXe , [url=http://pynknoffblmo.com/]pynknoffblmo[/url], [link=http://idhxzfzglakh.com/]idhxzfzglakh[/link], http://wimewsvfuskg.com/

h6gJPa zvkfnmtmyrre

zbbbfg
[01 November 2012, 19:02:18]
FvvzvZ nueratojfgzt

Luca
[31 October 2012, 18:41:02]
Thank you Krishna sir,We really appecriate for your kind information regarding our beloved village. It has been always fantastic to hear news about our village in such a way,especially, in development sector. I am very much proud of you that you have been serving for our village for such a long prior of time.When I saw your face it remind me of my school age and all those stupid things that i used to do at that time. It just feels like yesterday, I feel young again like a boy. I do hope you also feel the same as me, don't you sir? I have no doubt you have a huge connection with the school and village both emotionally and physically. I know you love the place same as any other villagers. Only one thing is different with compare to other is that you have been contributing with your highly respected qualification, dedication and honestly almost whole of your life.My heartfelt thanks to you for your hard work and showing such an enthusiasm towards our village and as well as school.We are very lucky to have such a generous teacher and proud of you.Your sincerelyEx student Arjun badmas danda ghar.PS it would be better if you could publish your e mail add so we can contact you personally in future.