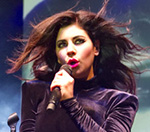 Marina And The Diamonds
frontwoman Marina Diamandis has expressed her frustration that she is not bigger.
The singer was one of 2010's tips for the top, but has failed to capitalise on her early hype.
Appearing on Australian radio station Undercover FM, Diamandis said she "feels more like a failure than a success".
"I haven't done anything I want to do," she said. "For someone who wants to be one of the best artists of her generation, I've done f*ck all."
Diamandis also blamed her American Record label Chop Shop for failing to promote her adequately.
Asked if she was happy with 2010, she replied: "No, I'm pissed off I'm not bigger."
Meanwhile, Diamandis confirmed Marina And The Diamonds were working on the follow-up to 2010's 'The Family Jewels'.
(by Jason Gregory)