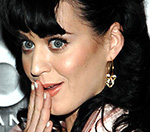 Katy Perry
has taken a dig at
Madonna
for being too blasphemous on stage.
Perry, who's a devout Christian, has spoken out about singers and performers who use biblical symbols in their live shows.
"For me, spirituality is something very important and I don't like it when people take it lightly," Perry told The Sun.
She added: "At times, I don't understand why there are artists who play that card, like when Madonna gets up on a cross to sing."
"Russell has made very blasphemous jokes in the past, but he's making fewer all the time because he knows that I am very sensitive about this subject."
Meanwhile, Rihanna and Katy Perry have attacked a former Big Brother contestant who launched a Twitter campaign promoting "managed anorexia".
(by Holly Frith)