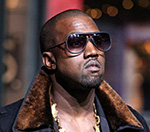 A new Christmas song by
Kanye West
has leaked online ahead of its official release.
The track, entitled 'Christmas In Harlem', features collaborations with CyHi Da Prynce & Teyana Taylor.
The song emerged on online yesterday (December 15) and in a message on Twitter West said it was still uncompleted.
He wrote: "Just got Dipset verses for Christmas in Harlem! Eeeeevrybody on it!!!! Cam, Vado, Jimmy, Pusha, Big Sean, Cyhi, Teyana Taylor & Musiq."
The tweet marked only West's second appearance on Twitter this month. The rapper failed to say when the finished edit of 'Christmas In Harlem' would be released.
(by Jason Gregory)