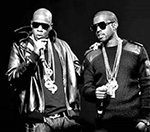 Kanye West
and
Jay-Z
have confirmed plans to release a new album.
The pair previously outlined details about an EP, but West has now revealed that the release will be a "whole album".
"We had done five songs so far, but then a few of them kind of were out there - and I put them on my album," West told MTV News
It is not clear when the album will be released.
Jay-Z recently lent vocals to a remix of West's hit 'Power', which also features on his forthcoming studio album 'My Beautiful Dark Twisted Fantasy'.
The follow-up to 2008's '808s And Heartbreak' is due to be released on November 22.
(by Jason Gregory)