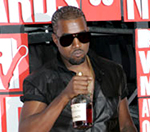 Kanye West
has fled to India in a bid to escape the media spotlight, it's been reported.
The rapper has endured a turbulent two months following his outburst at the MTV Video Music Awards and the cancellation of his co-headlining tour with Lady GaGa.
West was also a no-show at the BET Awards in Atlanta on Sunday, where he was nominated for nine prizes.
According to MSNBC, West's current location is unknown, but friends have hinted he is somewhere in India.
"Kanye might do some dumb things, but he's smart," a source said.
"He knows he needs to come back from this break changed, and that isn't going to happen at some rehab overlooking the ocean.
"He goes to India, he has a chance to come back seeming like he learned something from what happened."
Despite speculation over his whereabouts, West has continued to update his blog and published the last post on Monday.
Following his VMAs stunt in September, the rapper vowed to take time off from music in order to continue grieving the death of his mother, who died in 2007.
(by Jason Gregory)