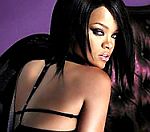 Rihanna
has filmed a special guest appearance in the video for
Kanye West
's new single 'Paranoid'.
The video marks the singer's first major appearance since stepping away from the public spotlight in February following an altercation with Chris Brown.
The black and white film, which was shot in Hawaii, shows Rihanna driving around late at night and includes the messages "betrayal" and "traumatic delusions".
The video, which was showcased by Def Jam records' L.A. Reid earlier this week, is expected to air this spring.
West was among a host of stars who spoke out for Rihanna after details about her altercation with Brown became public.
"That's my baby sister and I will do any and everything to help her in any situation," he said.
As previously reported, Rihanna and Brown were involved in an alleged violent altercation outside a parked car in Los Angeles in February.
Brown has been charged with assault over the incident, which forced both stars to pull out of the Grammy Awards.
The R&B singer is due to appear in court next month.
(by Jason Gregory)