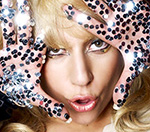 Lady Gaga
has become the first musician to pass one billion views for their videos on YouTube.
The singer reached the mark on Sunday (October 24), beating teenage sensation and nearest rival Justin Bieber to the feat.
"We reached 1 Billion views on YouTube little monsters," Lady Gaga wrote on her Twitter page.
"If we stick together we can do anything. I dub u kings and queens of YouTube! Unite!"
As of Monday (October 25), Lady Gaga's Vevo channel on the video-sharing website had received 1,001,708,406 views.
The singer's biggest YouTube hits include the video for 'Bad Romance', which is the website's second biggest video with 288 million views.
Bieber has the most watched video, with 'Baby' accumulating more than 345 million views.
(by Jason Gregory)