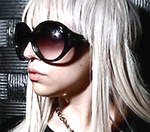 Lady Gaga
and
Justin Bieber
's are both on course to pass one billion views on YouTube for their music videos.
Lady Gaga, whose videos currently receive around 1.8million views per day, is set to reach the milestone on October 20.
The singer's biggest YouTube hits include the video for 'Bad Romance', which is the website's second biggest video with 288 million views.
Bieber, who scored 3.7 million views per day last month, is due to pass the billion mark on November 1, reports Billboard.
Data generator TubeMogul said the teen sensation is currently more prolific than Lady Gaga, averaging 3.83 million daily views since February.
Bieber's hottest video is 'Baby', which has been viewed 345 million times.
(by Jason Gregory)