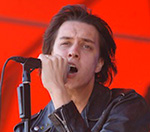 The Strokes
frontman
Julian Casablancas
has posted a bizarre picture on Twitter which he claims is the band's new album cover.
The colourful image features a basketball player, clown, rainbow and a unicorn standing on a cliff-edge.
In an accompanying message, Casablancas joked: "Exclusive - check out the new Strokes album cover..."
Despite clearly being a joke, many of the singer's followers seemed unsure whether the photo was actually set to appear on the cover of the band's new album.
On Twitter user said: "Urm doesnt really suit the music style isnt ? But it's your album, u can choose whatever cover u want."
Another added: "Are you kidding, right? anyway its your album and you can choose."
As previously reported, The Strokes as-yet-untitled new album, which is the follow-up to 2006's 'First Impressions Of Earth', is due out in March.
(by Jason Gregory)