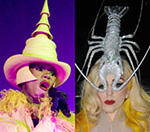 Grace Jones
has revealed that she turned down an invitation to work with
Lady Gaga
because she believes the singer isn't original.
Jones, 61, made the admission when asked in an interview with the Guardian whether Lady Gaga had ever asked to collaborate with her.
"I just don't play with other acts as a rule," she said.
When asked what she thought of the singer, Jones replied: "I really don't think of her at all. I go about my business."
She was then pressed further about Lady Gaga and asked whether she believed the singer had copied her style.
"Well, you know, I've seen some things she's worn that I've worn, and that does kind of piss me off," she said.
Asked again if Lady Gaga had ever asked to play with her, Jones replied: "Yes, she did, but I said no.
"I'd just prefer to work with someone who is more original and someone who is not copying me, actually."
Jones's comments come just a week after M.I.A also accused Lady Gaga of copying the veteran singer.
Lady Gaga is currently on the Japanese leg of her Monster Ball world tour.
(by Jason Gregory)