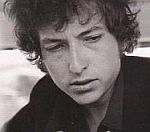 A poem about a dead dog - attributed to
Bob Dylan
- was really penned by late Canadian country singer Hank Snow.
The verse, thought to have been written by a 16-year-old Dylan in 1957, was due to go under the hammer in New York on June 23 - with an expected sale price of $15,000.
Called Little Buddy, it read, "Broken hearted and so sad/Big blue eyes all covered with tears/Was a picture of sorrow to see/Kneeling close to the side/Of his pal and only pride/A little lad, these words he told me."
But bosses at auction house Christie's have discovered Dylan's words are in fact "a revised version of lyrics of a Hank Snow song".
The poem will still be auctioned - along with a collection of Dylan memorabilia - and auctioneers expect it will still fetch hundreds of dollars, because it "remains among the earliest known handwritten lyrics of Bob Dylan".
(by Daniel Melia)